Buy Me a Coffee is a crowdfunding platform that allows fans to support creators with small monthly gifts.
The creator economy is growing fast and is expected to grow to $20 billion by 2022. This represents a significant increase from the $12 billion it was worth in 2019 and it is booming! In 2022, more than 139 million people around the world derive categorized themselves as creators. Creators are made up of artists, podcasters, video creators, and musicians mostly. Earning an income as a creator is your full-time job and if you want to be successful you need to run it like a business. That means building up a business plan, figuring out your target audience, and building up a persona or product to attract viewers. The most difficult job you will have as a creator is convincing others to pay you for your hard work, and this is where collecting funds can become a bit complex. In order to navigate the complexity of getting paid for the hard work, you are often left with a collection of various options that will take a lot of your time away from actually building a business. Buy me a Coffee was built to make things easier for people who want to start a side hustle as a creator by taking the pain out of payments.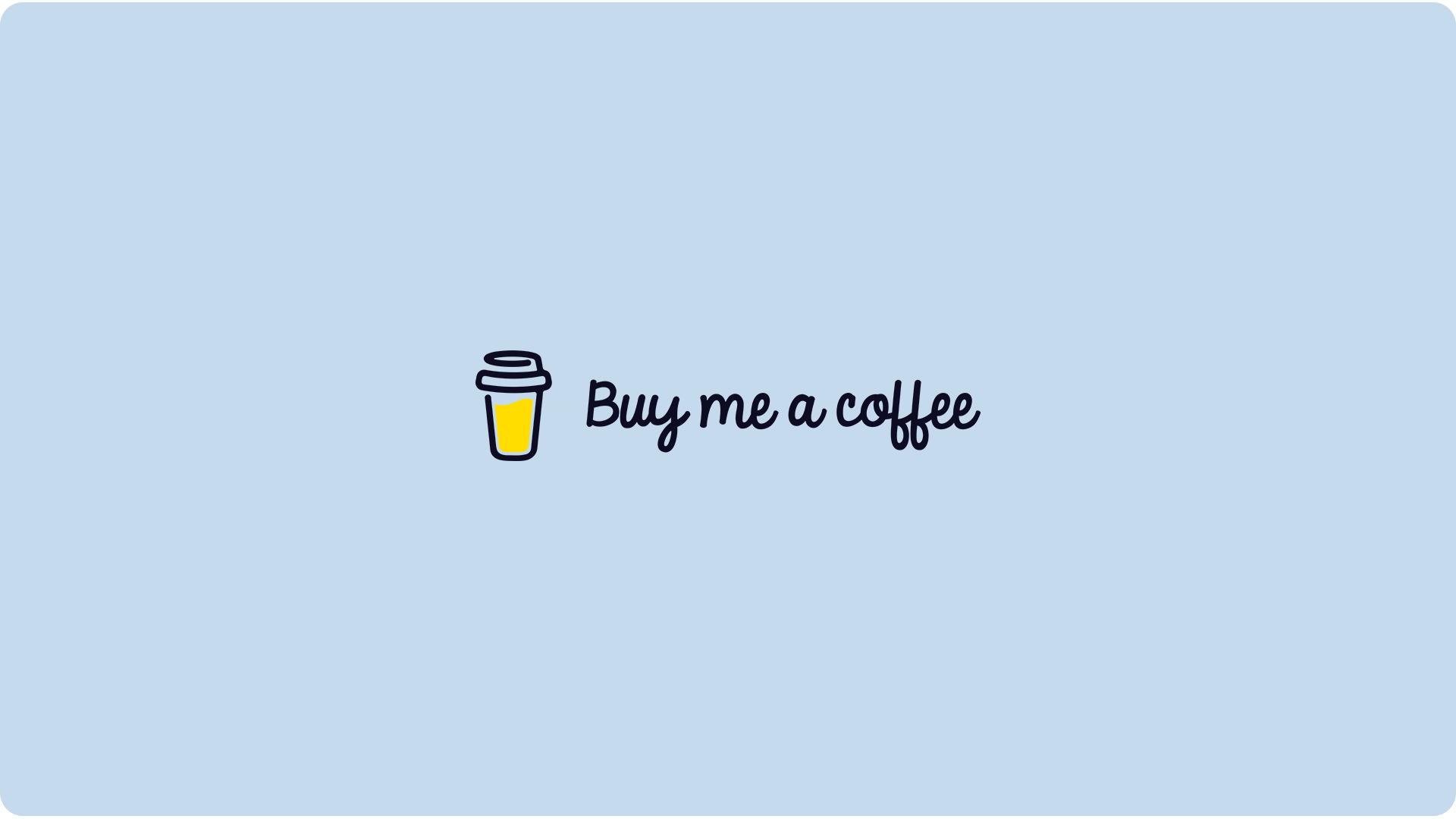 What is Buy me a Coffee?
Buy Me a Coffee is a service that allows people to support the creators they love with small monthly gifts. It's simple to use and makes it easy for creators to receive support from their fans. Buy Me a Coffee is home to over 300,000 creators and millions of users, Buy Me a Coffee is designed to help connect creative minds with people interested in their craft.
If you've done your research you've probably come across Patreon or Utreon and this all sounds very similar that's because Buy me Coffee shares a lot of similarities in its model. How different is Buy me a Coffee vs Patreon of Utreon? The biggest difference is that with Buy me Coffee, your supporters can pay you per month or per post. This means that they can support you on an ongoing basis, or they can choose to only support the content they love. Another big difference is that there are no fees! Patreon takes a cut of what you earn (up to 12%), whist Utreon takes (5%) but with Buy me Coffee, what you earn is what you keep. Lastly, we have a much easier-to-use interface and offer more personalization options for your profile page.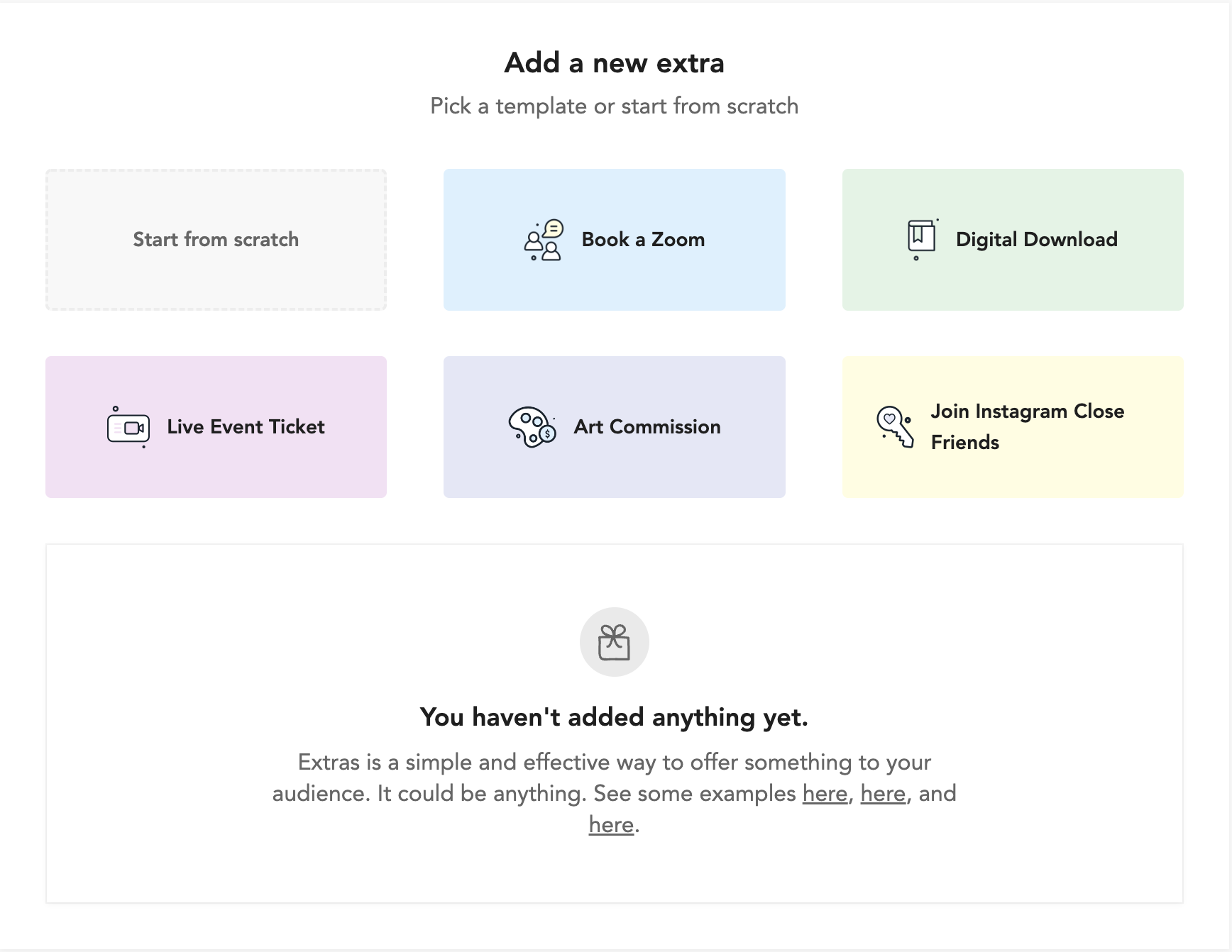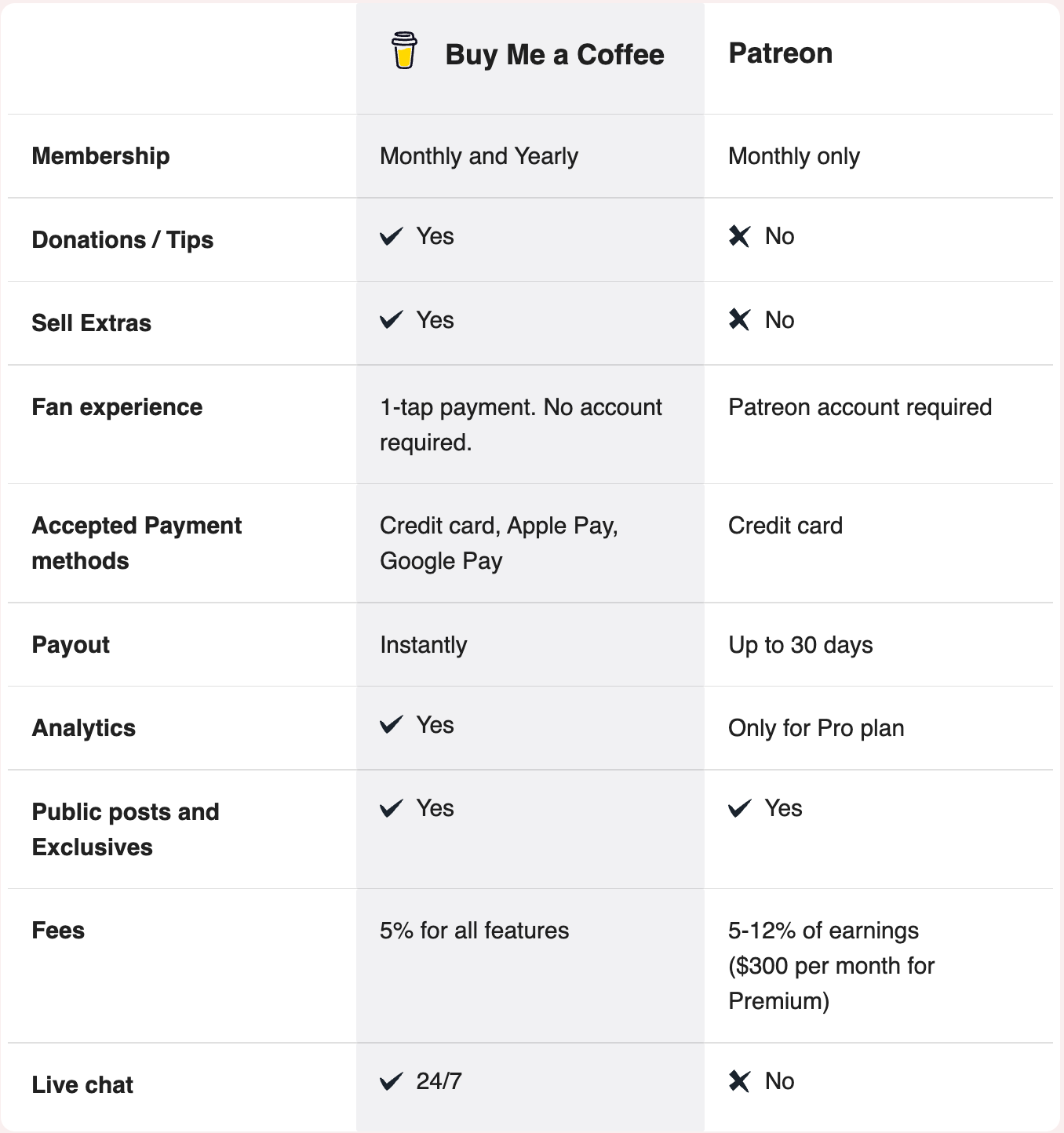 Who is Buy Me a Coffee for?
Buy Me a Coffee supports creators-of-all kinds, including video creators, artists, writers, musicians, developers, gamers, and podcasters. Whether creators are looking to start a full-time business online or start a side hustle, Buy Me a Coffee is a platform designed to help them make money by pursuing their passions.
Buy Me a Coffee is an excellent site for creators, but it's also great for fans who want to support their favorite artists. Users can head over to the Explore page to discover new creators of all kinds or use the search bar to find a specific creator of their choice.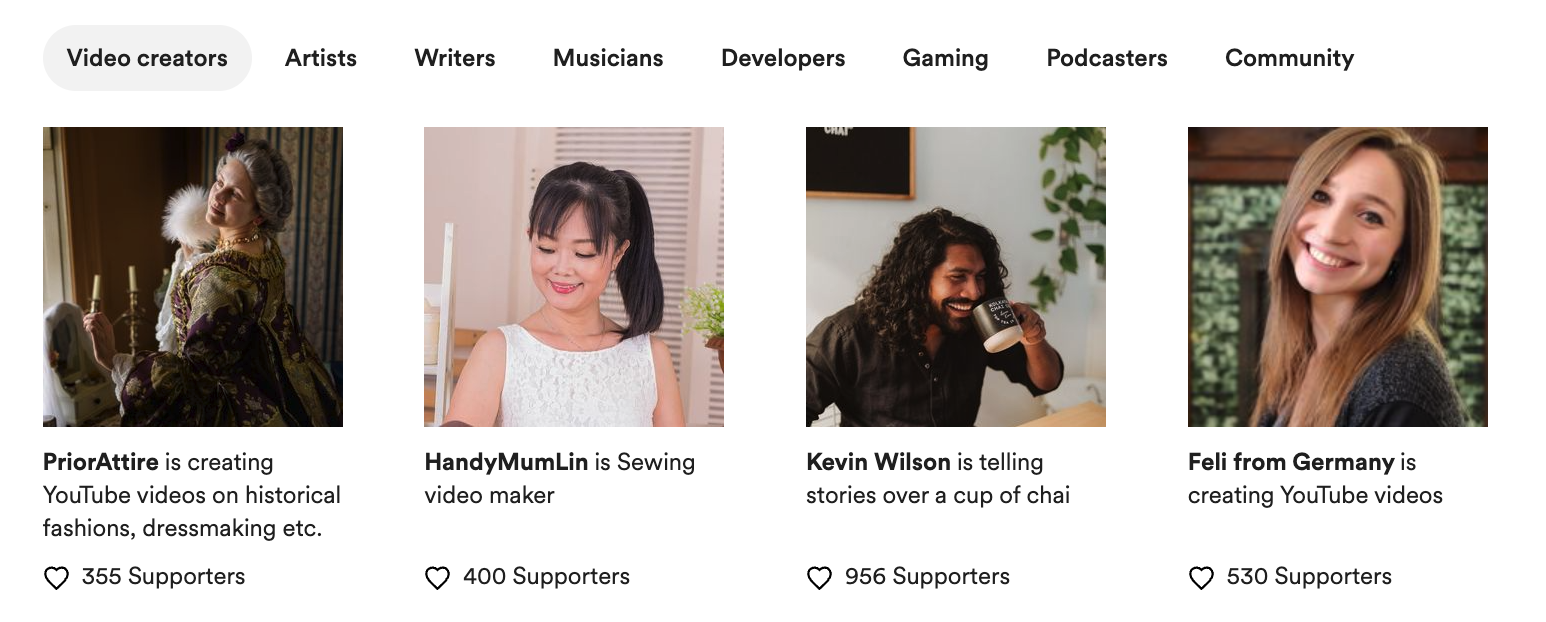 How does Buy Me a Coffee work?
Content creators can earn a reliable income by offering monthly or yearly memberships to fans. Memberships come in different membership levels set by the creator, each at a different price and offering additional rewards. Examples of rewards creators can offer their supporters include access to exclusive content, email alerts for new posts, and roles on Discord.
However, memberships are not the only way creators can make money on Buy Me a Coffee. This site also allows users to receive donations, take commissions and requests, sell products known as Extras, and crowdfund to meet a financial goal. Creators receive gifts from loyal fans in various dollar amounts referred to as "coffees" or other types of food. They can also offer "Extras" to sell products to fans, whether it's Zoom event tickets, art commissions, exclusive videos, e-books, etc.
How does Buy Me a Coffee payment work?
Creators and fans alike should know what percentage of memberships and donations Buy Me a Coffee takes from creators. See the table below to determine fees and payment methods.
|   | Buy Me a Coffee |
| --- | --- |
| Donation Fee | Takes 5% of donations |
| Cashout Method | Direct instant payments |
| Minimum Balance Requirement | None |
Buy Me a Coffee takes a flat 5% commission fee, and the remaining 95% of earnings go directly to creators. In addition, there is no minimum balance required for creators to access their funds, so artists can receive payments instantly after each transaction. This makes Buy Me a Coffee highly competitive with other sites that take much larger percentages of creators' earnings. 
How to use Buy Me a Coffee for Creators
First and foremost, you'll need to create an account by following these steps: 
Go to the website and click "Start my page"

Sign up and create an account

Add a profile image and story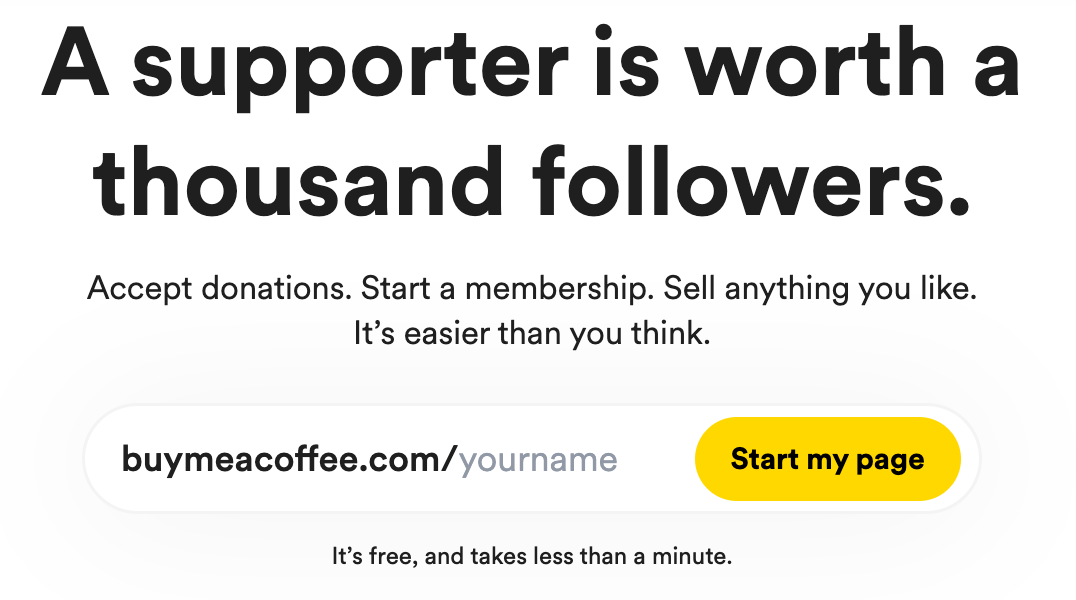 Once your page is set up, it's time to start creating and publishing content. Creators should post regularly and stick to a consistent schedule for the best results. If you have members who pay monthly to see your content, it's vital to publish high-quality content often to maintain memberships and generate renewable income.
It's also essential for creators to link to their Buy Me a Coffee page on other social media platforms. While the Explore page helps artists get discovered right from the Buy Me a Coffee site, it also helps to advertise your page to followers who like and engage with your content on other platforms. 
How to use Buy Me a Coffee for Fans
Buy Me a Coffee is super easy to use from a fan perspective. Whether you want to support your favorite creators or find new ones, the Explore page is everything you need to make the most of your experience. Scroll to see a list of content creators separated by category, or use the search bar to find a specific artist whose content you'd like to see.
Financially supporting creators is as simple as heading over to their page and selecting 'Membership' or 'Support.' The Membership tab lets users join the creator's community by choosing any of the available membership levels, while the Support tab lets users send a one-off monetary donation. You can also pay for any Extras that creators offer right from their page. 
Buy me a Coffee FAQ
Is buy me coffee free to use?
Yes, it's absolutely free to sign up as a creator.
What does Buy Me a Coffee do?
Buy me a Coffee is a website that allows content creators to earn money to promote their content. The title of the book says "Give me my coffee" but the subscribers will donate. It basically adds a donation link to a web page, but a little less subtle.
Is Buy Me a Coffee better than Patreon?
Buy Me A coffee offers more support than Patreon. The company offers an online support system for its customers via live chat or via the Openly Public Email. Alternatively, they have an online feature request form.
Does Buy Me a Coffee show your real name?
When you sign up for Buy Me a Coffee, you're asked to provide your name and email address. This is used for will still appear on the bank statements of transactions. However, both as a user or creator you don't need to use your real name. You can pick up a display nickname instead. This is what other users will see when they visit your profile.
The Takeaway: Should I use Buy Me a Coffee?
The choice to use Buy Me a Coffee depends on who you are and your needs. If you're a creator looking for a side hustle or passion project, this is an excellent platform for sharing your work with fans while earning an income. Likewise, if you're a fan looking to support creators and browse their work, Buy Me a Coffee is a user-friendly website that you'll find accessible and fun to use.